T-Mobile Call Up Grant Program
by BYA Admin on Monday, February 8, 2020
Little League is for everyone.  All kids should have the opportunity to learn the life lessons that youth baseball can provide.  Through the T-Mobile Call Up Grant Program, the full cost of a BYA registration can be covered for families in need.
The T-Mobile Call Up Grant is available to players ages 5-12 who live in the Baden, Ambridge, Economy or South Heights areas, or who attend school in the Ambridge Area School District and who can provide proof of low-income status (SNAP, WIC, Foster Child Paperwork, Medicaid).  This offer is valid only until our rosters are full, and you must register with BYA and apply for the grant no later than February 29, 2020.  If you've already paid for a 2020 BYA registration and you meet the low-income requirements, please contact us to find out how you can apply for a refund.
If you'd like to register to play with BYA and apply for the grant, please follow the steps below.
1. Contact us at bya@badenyouth.org or call 724-480-7723 to indicate your interest or to ask questions.
2. Click HERE to apply for the T-Mobile grant online.  Please be thorough in your application and include all required documents or your application may be declined.
3. Register online for a BYA Regular Season Little League program by clicking HERE, or visit us at one of our upcoming live registrations.  When you reach the payment page, complete your registration by choosing the Credit Card option then choose Skip/Pay Later.
4. We'll add you to a roster if your grant is approved.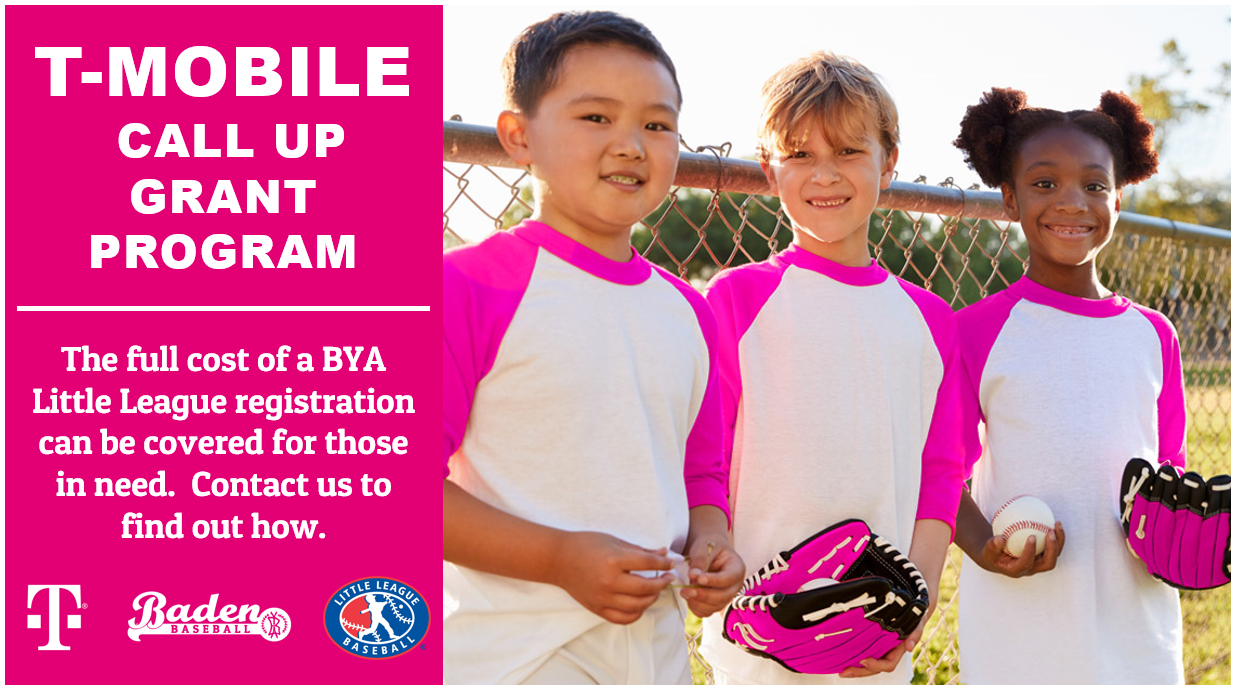 They Call Me Coach

by BYA Admin on Monday, January 27, 2020

Do you ever wonder how important a good coach is to a young athlete?  By "good" we don't mean how many wins they chalk up in a season or how big the trophy is they bring home at the end of an all-star tournament.  By "good" we mean how well a coach uses the game to teach lessons that go beyond the fences and foul lines - the impact that they have long after a player hangs up their uniform for the last time.

Bad coaches don't necessarily produce bad people.  They just rob kids of an opportunity to learn and enjoy a game that can offer countless valuable life lessons.  Good coaches, on the other hand, can produce good people.  A good coach teaches you to respect your teammates, your opponents and umpires.  When is the last time you got a job promotion by insulting your co-workers or talking back to your boss?  A good coach teaches you that misplayed ground ball is nothing more than a bad bounce - life is full of them - learn from it and focus on the next one.  Next time, when that hard shot is approaching, you'll know exactly how to handle it.
A good youth coach tries to keep players in the game for the long term, but they also realize that many players will end their playing career before they even reach high school.  Players fortunate enough to have a good coach in their youngest playing days will have learned some of the qualities that lead to success both on and off the field.
The following is the first in a three-part series that highlights BYA coaches who are determined to turn good players into good people.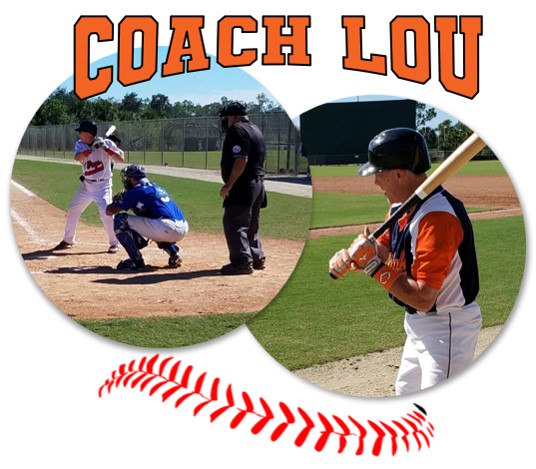 Coach Lou is in his third season with the BYA.  In his first two seasons he coached teams in our 10U program, but this year he's volunteered to lead our 12U Little League program.  In fact, it was Coach Lou's idea to become a chartered Little League program - so we know that the program is in very capable hands!
Anyone lucky enough to watch Coach Lou in action can see his respect for the game.  But more importantly, Coach Lou wants to instill that same respect for the game in the young players who call him Coach.  You'll often hear him offering subtle hints of discipline to anyone within earshot, "Players play!  Coaches coach!  Parents watch!".  And players best not show up to a game with a hat on sideways or a jersey untucked - that's not a good look for a ballplayer.  You'll see Coach Lou's influence prior to the start of each game when he has his team line up on the foul line and tip their caps in a show of respect for the game.  Yep, you guessed it, Coach Lou's extensive background in the military and as a State Trooper finds its way on to the field and has a profound impact on his players.
Coach Lou's game knowledge comes from his many years of experience as a player.  He continues to play as a second basemen in the Pittsburgh Adult Baseball League, serves as a Player Coach for the Steel City Hawks Legends Division and was a 2018 Roy Hobbs World Series Champion.  He's even got the ring to prove it!
Coach Lou is one of our certified PCA Double-Goal Coaches and we're thrilled to have him on our team.  You won't find a better model of how a player should behave on and off the field.
3 Questions with Coach Lou
Favorite BYA memory?

"I will always remember my first meet the coaches event at McDonald's. Players were excited and so eager to pick up their uniforms. I thoroughly enjoyed meeting families and friends, and interacting with the players. It was great sharing our enthusiasm for the game and anticipation of the new season"
Best lesson Baseball can teach a young player?
"The opportunity of competing in, and winning, the Roy Hobbs World Series has allowed me to share my championship ring with young and old players. The message I give everyone is you can achieve anything in your life, on or off the field, if you stay positive, work hard, surround yourself with positive people, and treat everyone with integrity and respect.
I have found that this philosophy is the key to getting the best out of a player of any age. My communications style is positive and encouraging, and I fully understand, and appreciate, that all players make errors. Even so, it is more important to focus on what is done right, and then work on what needs to be improved on to further the team's success.  I believe that developing players' skills, teaching them to become better teammates, and ensuring all players honor the game will build the character that result in wins on and off the field."
What are you most looking forward to this season?
"The new 12U Little League program opens up a whole new opportunity for the BYA community. Players can continue to grow in their baseball skills while experiencing a higher level of competition - an important element for character development. As a coach, I am really looking forward to the challenge of molding young players into baseball athletes."

Big Lessons

by BYA Admin on Wednesday, January 8, 2020
"When time does take hold of these players, as they count their lives in years past more than runs scored, what will they recall from now and carry forward to then?  Likely, it won't be the scores.  It will be the bonds and the lessons that come from this game, this season, this league.  And those bonds and lessons - they will never be little"

One of the first things we say to our players at the start of the season is " Play Hard! " Playing Hard means that you're participating and having fun in an activity that you enjoy, but at the same time, you're persistently working to improve.  Many lessons originate from our "Play Hard" motto, but none is more important than that of EFFORT - more specifically, that while you can't control the outcome of a game, you can control how much effort you put in.
Effort drives you to pick yourself up after you make an error and pushes you to focus on the next play.  Effort turns a scoreboard loss into a win by teaching you that your determination to improve is more important than the outcome of a game.  Effort breeds success, and that's an important lesson both on and off the field for kids and adults alike.
For our part, there will be no lack of effort in building our new Little League program into one that our players, their families and our community can be proud of.  Of course, our goal is for this new program to succeed, both on the field and off.  Our coaches and players will put in the effort on the field to find successes there.  And behind the scenes we'll be doing all we can to offer a program that cultivates and encourages those big lessons - things like Effort, Leadership and Teamwork - that transform young boys and girls into successful adults.
What young ballplayer wouldn't want an opportunity to play on that grand stage in Williamsport, PA?  Who knows?  With a little bit of effort and teamwork, maybe we'll get there someday.  For now, we've got a motivated team of leaders in place that have made a commitment to developing a program that our young players want to be a part of and will remember long after their playing days are over.  And even if we don't make it all the way to Williamsport, the lessons we learn along the way may just exceed the goal itself. 
If you have a player who likes to Play Hard and would enjoy all the lessons this game has to offer, register today and join us for our 2020 Spring Season!

League Boundary Map

by BYA Admin on Friday, December 20, 2019
For the 2020 season we'll be playing in the 4th District of the Pennsylvania Eastern Region.  Our boundary map is the same as the Ambridge Area school district.  Any boy or girl ages 3-12 who meets any of the following requirements is eligible to play on a BYA baseball or tee-ball team...
Kids whose primary residence is within the local league's boundary can play for that hometown league.
Kids can play for the league where their school is located.
Kids from divided homes may choose to play in a league in whose boundaries either parent resides.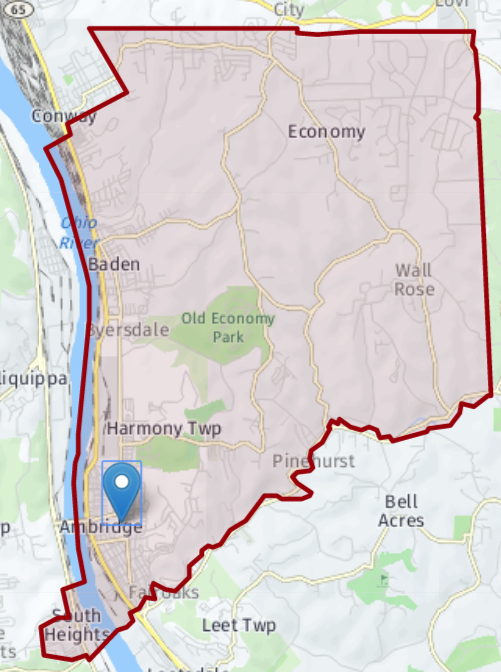 Other teams in our district include Quaker Valley, Avonworth, Moon Township, Franklin Park, Findlay, and a couple others.

A Message to our Members

by BYA Admin on Thursday, December 19, 2019
The Baden Youth Association and Baden Baseball are excited to announce that we're now an officially chartered Little League baseball program!  Becoming a chartered Little League program will bring many new and exciting opportunities to our organization and we can't wait to get things started.  
For the remainder of the off-season, we'll be working on the organizational planning and administrative tasks that come with being a chartered Little League program.  You'll begin seeing some of the structural changes take shape once we open our registrations in the new year in the form of minor changes to our registration process and age brackets.  Once registrations are underway, we'll start focusing on coach and volunteer recruitment.  Then it will be on to team planning and game scheduling.  By the time we reach Opening Day in mid-April, we should have everything in place for a fun and successful season.
While there will obviously be a learning curve as we begin to operate under the Little League rules and regulations, we don't anticipate any major changes or disruptions to the day-to-day operations of our league or our regular season programs.  Perhaps the most visible change will be the opportunity our older players & teams (8U and above) will now have to compete against other local Little League teams.  We'll certainly be mindful of the BYA Way, and our mission to emphasize player development over competition will remain unchanged.  
Over the next few weeks and into the new year, we'll be posting updates on our progress.  Please keep an eye on the Little League page on our website and be sure to follow us on Facebook to keep up on all the latest news and events.
Enjoy the holiday season and we'll be in touch in early January when registrations open.
Yours in baseball,
The BYA Board of Directors

It's Official!

by BYA Admin on Tuesday, December 17, 2019

The Baden Youth Association and Baden Baseball are excited to announce that we're now an officially chartered Little League baseball program!

The baseball programs at the Baden Youth Association have always been focused on player development and teaching our young athletes that scoreboard wins are secondary to sportsmanship, effort, learning from mistakes and teamwork.  Our decision to become an officially chartered Little League program allows us to continue promoting those ideals, but it also offers us an opportunity to allow our players to benefit from the experience of playing other local Little League teams.
Along with our existing partnerships with the Positive Coaching Alliance and National Alliance for Youth Sports, our new Little League affiliation gives our players, parents and coaches access to some of the best resources available to ensure that our kids' experiences are both positive and memorable.
We're hard at work behind the scenes getting everything in place for the 2020 season.  Keep an eye on this space for more details over the next few weeks as we prepare for open registrations on January 1, 2020.
We're beyond excited to be one of the only official Little League chartered programs in the Beaver County area, and we can't wait to get the 2020 season started!  Let's Play Ball!